Keestrack S5 Track Stacking Conveyor
The Keestrack S5 Track Stacking conveyor is the material handling solution you have been looking for. Eliminate double handling of material and reduce costs to stockpile material. Paired with a Keestrack Screener or Crusher the S5 Stacking Conveyor can stockpile material up to 31 feet, all while reducing your operating costs.

Built to last and designed to perform; the Keestrack S5 is manufactured heavy duty to work in the most difficult applications. The track chassis offers superior mobility on the job site compared to traditional wheeled stackers. The fuel efficient design is available in either Diesel/Hydraulic or Diesel/Electric drive system and will lower operating costs significantly. Don't throw away your profits on fuel and extra operators, the S5 Stacker is the right solution for your business!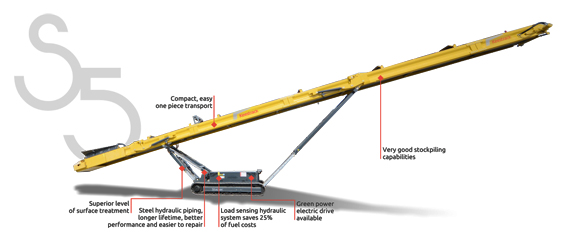 Benefits and Features
75% cost saving capacity compared to a wheel loader
Very good stockpiling capabilities
Main conveyor 40" wide, 75' long
Feed capacity up to 500+ tonnes an hour
Stockpile capacity from 2,500 tonnes to 15,000 tonnes
Adjustable Discharge height, with max height of 31'
Available in Diesel/Hydraulic drive, Diesel/Electric drive and Dual drive
Eliminate double handling of material, and reduce costs to stockpile material!
Photos - Click to Enlarge