Keestrack D-Series Track & Wheeled Trommel Screens
The Keestrack D Series Trommel Screens offer a full line of both tracked and wheeled trommels built for the toughest conditions. With its robust design and heavy duty construction the D Series trommel screens are ideal for work with different materials – soil, compost, waste, coal, aggregate, biomass and more.
Multiple sizes available in both wheeled and track versions.
Keestrack D4 - Drum Size: 14' x 5' (wheeled only)
Keestrack D5 - Drum Size: 15' x 6' (track & wheeled options)
Keestrack D6 - Drum Size: 18' x 7' (track & wheeled options)
Keestrack D7 - Drum Size: 24' x 7' (wheeled only)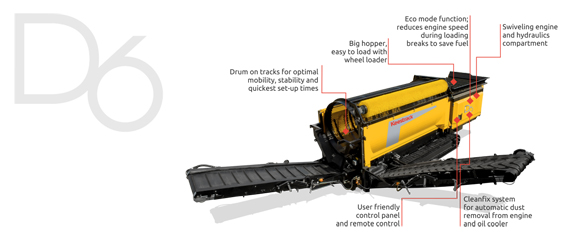 Benefits and Features
75% cost saving capacity compared to a wheel loader
Multiple units available in the range to fit your application
Drums available in punch plate and screen mesh
Large hopper capacity & high tonnage screeners
Easy operation and low maintenance costs
All maintenance points and components are easily accessible
Adjustable drum rotational speed
Energy efficient hydraulic drive system
Photos - Click to Enlarge